Sunset Paddle 15% OFF Sale!

Normally $179, now on sale for $154!
Vibrant Colors in the Afternoon !
This is the Best time to view the color stained rocks. With the sun at a lower angle in the afternoon the colors come out with vibrant tones. Kayaking the shoreline along Pictured Rocks National Lakeshore is an experience that you will not want to miss. This is arguably the most beautiful shoreline in the United States, with crystal clear water in the largest freshwater lake in the world. Sandstone cliffs of beautiful reddish and orange hues rise vertically out of the shoreline nearly 200 ft. Ride the swells as you can hear the waves crashing into these rocks which carved beautiful caves, arches, and other natural formations that early explorers used for landmarks over 200 years ago. Paddle the same water as the Voyageurs, trappers, geologists, and Native Americans did as a resident population slowly came to the Upper Peninsula during the fur trading and exploration eras. You will see Miners Castle, Falcon Cove, Bridalveil Falls, the Painted Coves, Kissing Rock, a ship wreck, Caves of the Bloody Chiefs, Mosquito river and Lovers Leap Arch. A light dinner and snack are included, please bring your own beverages.
ALL KAYAK TOURS CHECK-IN 30 MINUTES PRIOR TO THE SCHEDULED TRIP TIME. TRIP TIMES ARE ESTIMATES DEPENDENT ON WEATHER AND GROUP SIZE.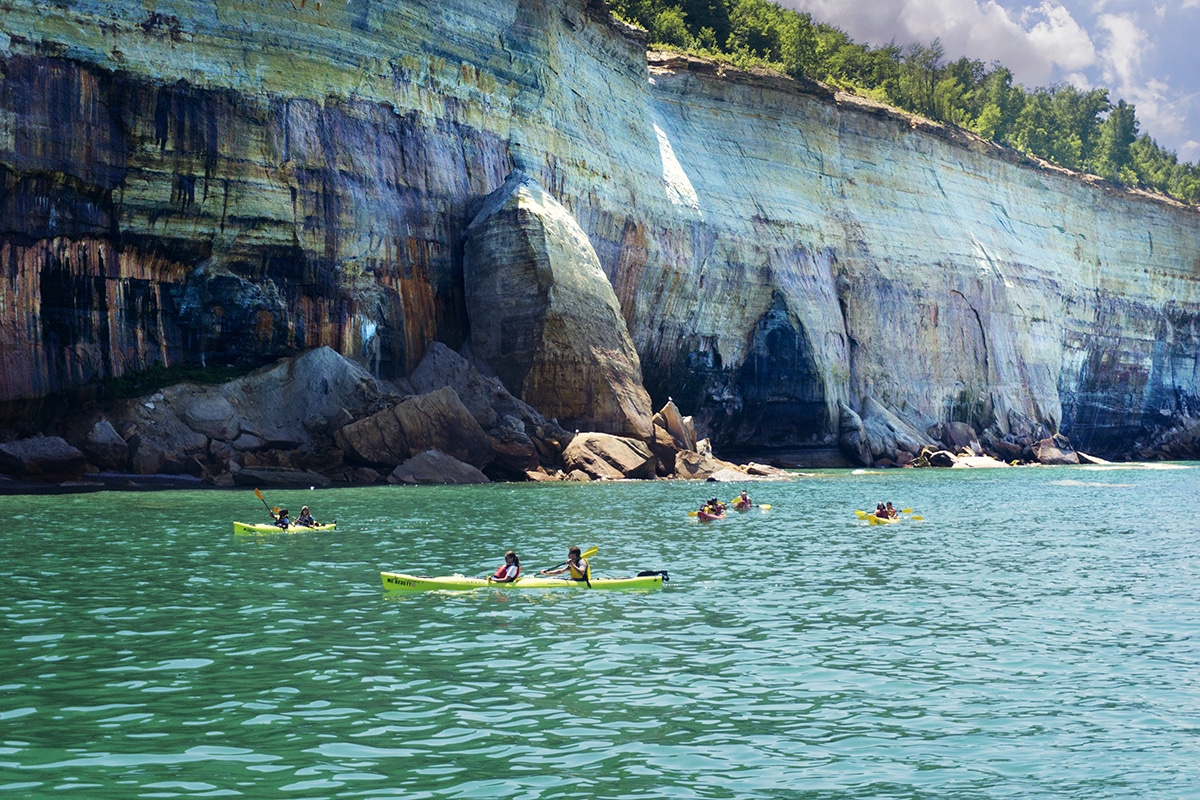 We are committed to providing a safe and enjoyable experience while exploring with minimal impact.

All trips are subject to change due to mighty Lake Superior conditions for your safety!

The Sunset Paddle 15% OFF Sale! Kayak Tour takes approximately est 6 hours to complete.

2:30 PM EST Meet at our off site Parking

E10846 Hwy H58 Munising, MI. 49862
Paddling Michigan Kayak Tours Parking
3:00 PM - Briefing
Bus ride from H58 parking to Miners Beach. Beach Briefing before kayak tour begins.
4:00 PM - Paddling Begins
Paddle past Bridal Veil Falls, multiple caves, and cliff line to Lovers Leap Arch. Light dinner at Mosquito Beach and paddle back towards Miners Beach observing the changing colors and light reflections along the way.
9:30 PM - Landing

A Light Dinner is provided on this trip
Snacks
Water
Sun Protection
Water Shoes or Sandals


WHY NOT STAY FOR A FEW DAYS?
This Kayaking Tour is Featured in the Following All-Inclusive Vacation Packages