Paddle & Hike 15% OFF SALE!

15% Off Summer 2023 Sale!
Most Exclusive Tour Sale Ever!
Summer 2023 Sale, Get 15% Off Today!
Regular Price $236.00 per person, Sales Price $200.60 per person!
The most exclusive trip through Pictured Rocks!
Very Limited quantities, get yours before they sell out!
The Complete Pictured Rocks Experience covering a distance of roughly 11 miles with a one hour lunch break along the way. A lunch consisting of turkey, ham, chicken or veggie wrap, fruit, and granola bar is included. Bring your own beverages. You will see Falcon Cove, Bridal Veil Falls, sea caves, beautiful color stained rocks in the Painted Coves, Kissing Rock, a ship wreck, Lovers Leap Arch, Caves of the Bloody Chiefs, Rainbow Cave, Indian Head, Grand Portal Arch, Battleship Row, the Flower Vase, Chapel Beach and Chapel Rock. From Chapel Beach your guide will hike with you for about 3 miles along the Chapel River to our shuttle that takes you back to your vehicle. This trip is for people in moderately good physical condition and the hike is over level terrain. The kayaks are left on the beach and are retrieved by our kayak barge.  ALL KAYAK TOURS CHECK-IN 30 MINUTES PRIOR TO THE SCHEDULED TRIP TIME. TRIP TIMES ARE ESTIMATES DEPENDENT ON WEATHER AND GROUP SIZE.
Price already discounted to the Sale Price.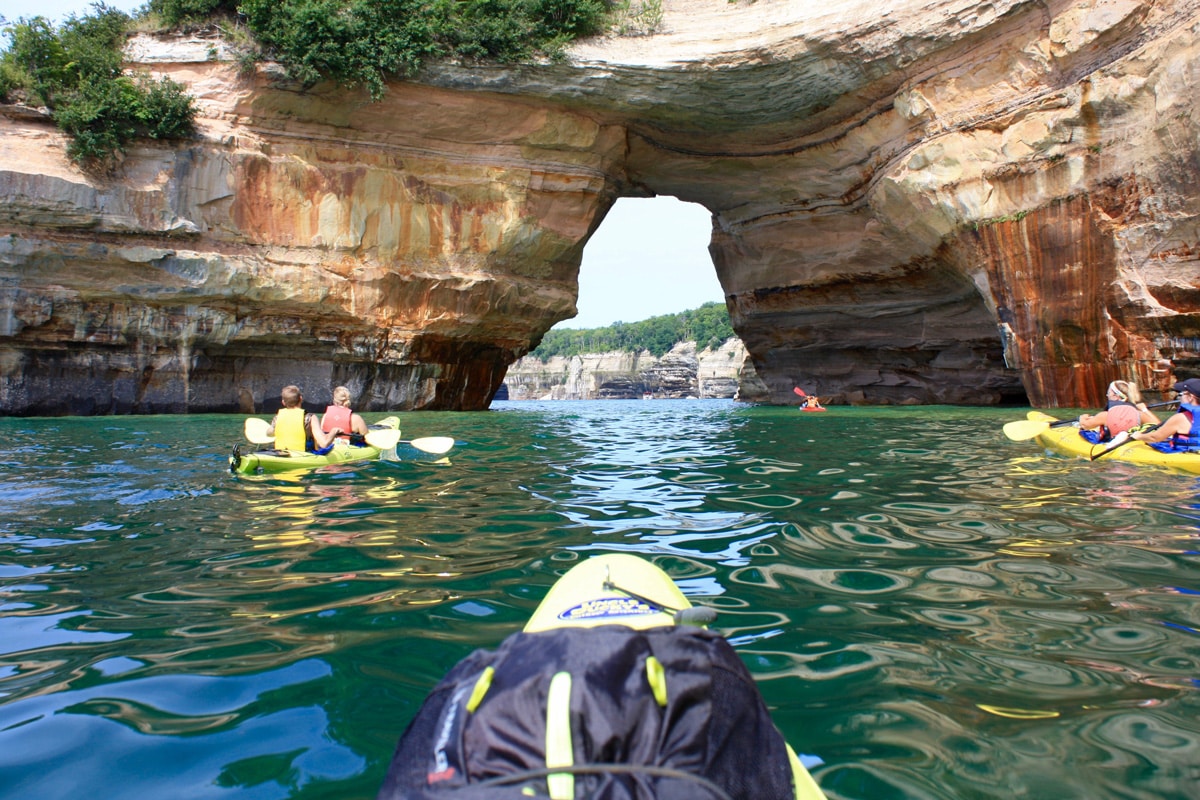 We are committed to providing a safe and enjoyable experience while exploring with minimal impact.

All trips are subject to change due to mighty Lake Superior conditions for your safety!

The Paddle & Hike 15% OFF SALE! Kayak Tour takes approximately est 8 hours to complete.

8:30 AM- Meet at our off site parking area

E10846 Hwy H58 Munising, MI. 49862
Paddling Michigan Kayak Tours Parking
9:00 AM- Briefing
Bus ride from H58 parking area to miners beach + briefing.
10:00 AM- Paddling Begins
Paddling North East along cliff- Bridal Veil Falls, Caves, Mosquito River, (Lunch at Mosquito Beach) Caves of the Bloody Chiefs, Lovers Leap Arch, Indianhead, Grand Portal Point, Battleship Row, Flower Drum Pots, Chapel Cove, Chapel Rock and Chapel Beach.
4:00 PM- Hiking Begins
Hike to Trailhead along the Chapel River 3.1 miles
5:30 PM- Landing
Shuttle Bus to Paddling Michigan Parking and your car

A Light Lunch is Provided on this trip
Snacks
Water
Sun Protection
Water Shoes or Sandals


WHY NOT STAY FOR A FEW DAYS?
This Kayaking Tour is Featured in the Following All-Inclusive Vacation Packages