The Ultimate Campsite Face-Off:
Which One Is Best For Your Family?
When it comes to camping along the Pictured Rocks National Seashore, there are a few things you can count on: 
You'll be close to the awe-inspiring sandstone cliffs and the blue waters of Lake Superior. 

There will be opportunities to canoe and kayak in those waters and hike and birdwatch on the cliffs. 

No matter where you settle in for the night, there will be beautiful night skies and a campfire for your s'mores. 
All of the camping options at Paddling Michigan will keep you close to the Pictured Rocks and very close to nature. But what if you have a few more items on your wishlist? 
Choosing the best campsite for your family along the picturesque Pictured Rocks National Seashore can be tough. At Paddling Michigan, we offer a range of camping options that are sure to satisfy your family's various needs and preferences. 
First, let's compare our two campgrounds, Paddlers Village and Au Train Beach Campground, to help you make the best choice for your crew. 
Campground Showdown: Modern or Traditional?
Paddlers Village is a modern campground (no RVs or tent sites here!) that offers one-of-a-kind lodging options such as yurts, tipis, safari tents, and cabins.

These glamping sites are equipped with electricity and WiFi and are furnished with comfortable beds, tables, chairs, and a small refrigerator. Outside, you'll find essential camping amenities like picnic tables, fire pits, and grills. 
Nearby, you'll find the Sandhill Lodge, a spacious community gathering place available for rental, accommodating up to 30 guests and offering amenities like a pizza maker, microwave, board games, and more.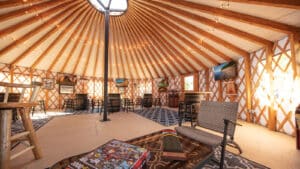 Paddlers Village also has a restaurant, The Duck Pond Eatery & Beer Garden, for those nights when you want to eat something not al fresco.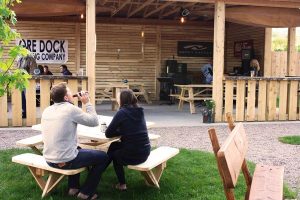 Paddlers Village is perfect for campers who enjoy the convenience of a furnished site!
If you're looking for a more traditional campground for your adventure, we offer Au Train Beach Campground. Located in the heart of Hiawatha National Forest, Au Train Beach Campground is a perfect home base for all the outdoor fun Pictured Rocks has to offer.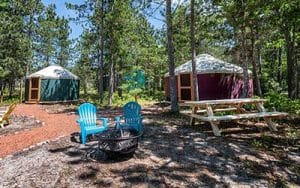 The campground is located very close to the Au Train River, which is known for its scenic beauty and safety. The river is perfect for canoeing, kayaking, fishing, and swimming. 
Au Train Beach Campground offers a wider range of lodging options, including the unique options found in Peddler's Village, along with thirteen walk-in primitive sites where you can pack your own tent (PYOT). While these sites are non-electric, they all provide a firepit, a charcoal grill, and a picnic table, ensuring a fantastic camping experience in the beauty of Michigan's Upper Peninsula. 
But which campsite is the best for you? Let's take a little virtual walk around Au Train Beach Campground!
The Au Train Beach Campground boasts a wide variety of campsites to suit every kind of camper. The layout of the campground is designed for maximum convenience, with bathrooms and shower houses centrally located. There is a large community yurt in the middle perfect for gathering with your group or other campers. Our camp store sells firewood, ice, and other must-haves.
The northeast corner of the campground will keep you close to the common areas, making it a perfect spot for larger family groups.
Beach lovers will find the northwest corner of the campground particularly appealing, as it offers sites with the closest access to the beach. If you like to be a little more remote, this corner would be perfect!

If you enjoy the camaraderie of a campground, the south side provides yurts and platform tents, with paths perfect for strolling, pulling wagons, or riding bikes. 
With the meeting point for our kayak tours and Grand Island Cruises just minutes away, you'll never feel far from all the activities you love.
The two campgrounds of Paddling Michigan cater to all preferences, whether you're seeking a rustic camping experience or a more luxurious stay. With its beautiful location near Pictured Rocks and a variety of adventures available, it's the ideal destination for creating lasting memories with your family and friends. 
For an extra-convenient vacation, we've bundled all-inclusive vacation packages that combine our lodging options with our most popular kayaking tours, a cruise around Grand Island, and meals at The Duck Pond. Your stress-free vacation can begin now!