Master the Art of Glamping: 
A Beginner's Guide to Luxury Camping at the Pictured Rocks
It's time to plan your summer vacation, and you've chosen the adventure and beauty that can be found on the waters and trails of Pictured Rocks National Lakeshore! (Fantastic choice!)
Pictured Rocks extends 42 miles along the shore of Lake Superior and offers awe-inspiring views from both the water and the land. It gets its name from 15 miles of colorful sandstone cliffs that rise 200 feet above lake level. The minerals within the cliffs have painted the rocks into a natural art display, and the surrounding waters have sculpted them into caves and arches. Absolutely breathtaking, and also miles from a big city. 
The thing about nature is that it's often remote and best experienced up close. 
But the thing about vacations is that we like the comforts of home (you know… comfortable beds and the occasional dinner out).  
The beauty of Pictured Rocks is best experienced outdoors, with the waves of Lake Superior lulling you to sleep and the birds of Northern Michigan waking you up. 
Is it too much to ask for a comfortable bed as well?
We can help you with that!
At Paddling Michigan, we have a variety of Pictured Rock accommodations that suit even the most reluctant campers. Our yurts and safari tents are a fun way to experience Glamour Camping, or as seasoned travelers like to call it: Glamping! 
Glamping takes the DIY out of camping so you can enjoy all that Pictured Rocks has to offer. 
Consider these unique Pictured Rocks accommodations:
Yurts—

Historically, yurts were round, portable tents covered in animal skins for protection from the elements, but they've found new popularity recently for comfortable overnighters.

Our yurts

are made of durable, weather-proof materials and are fully furnished with solar lighting, chargers, WiFi, tables and chairs, beds with mattresses, and small fridges. The yurts have screens over their doors and windows for bug-free breezes. They are built on wooden platforms and have fully lockable doors.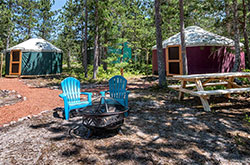 Safari Tents—

Our roomy

safari tents

have all of the charm of camping under the stars, but with all the extras many of us enjoy. Each tent has beds with mattresses, a small refrigerator, solar lighting and chargers, and WiFi. The tent sits on a screened-in deck, perfect for bug-free sky-gazing.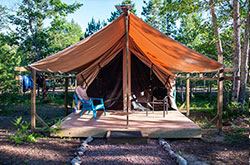 Still a little rustic for your taste? Paddling Michigan also has cabins and lodge-style rooms available, with all the comfort of a hotel room! For a fun family experience, check out our fully furnished Grand Yurt, which includes heat/AC and a television for couch surfers.
New to Glamping? We've put together a crash course for Glamour Campers who would like to upgrade the traditional camping experience to something a bit more refined. 
Glamping 101 
Upgrade #1: Beds  
A hallmark of camping is a sleeping bag on the ground, but glamping levels up with a bed and mattress. Bring a sleeping bag or do it up right with your sheets and blankets from home! Our yurts and safari tents have solar lights for late-night reading and chargers for your screens. Or Stay at the Paddlers Village which offers full electricity in every unit.  Or even one step further with the Deluxe Yurts at the Paddlers Inn which have Heat/AC, Private Bathrooms, and Kitchenettes! 
Upgrade #2: Meals  
Maybe the popular hot-dogs-and-s'mores dinner doesn't require any upgrades, because sometimes that really hits the spot. But if you'd like some options while you're glamping, every site is equipped with a charcoal grill for preparing your favorite al fresco recipes. Inside your yurt or tent, you'll find a small refrigerator for easy cold food storage. For the early risers, bring a camp stove and your skillet and serve up breakfast in bed!  
If you'd like to skip the meal prep altogether, head over to The Duck Pond Eatery & Beer Garden, where you can enjoy beverages at the bar and local favorites, such as Lake Superior whitefish or poutine—fries and cheese curds smothered in gravy. (Trust us, it's delicious!)
Upgrade #3: Showers  
Even traditional campers can appreciate a hot shower. Both campgrounds at Paddling Michigan have clean shower buildings with hot water, locking doors, and attached dressing rooms. Our Deluxe Yurts are great for families and feature a private bath and shower inside. 
Upgrade #4: Make it a party 
If you're considering putting five people into a small tent, you might want to consider this glamping upgrade! Our yurts come in two sizes, with real beds for up to 5 in the small yurt, and up to 8 in the large. Safari tents can also accommodate up to five people. If you're planning your trip with others, rent sites side-by-side and enjoy glamping with a group! Bring comfortable lawn chairs and gather your people around the campfire, add grilled burgers, and enjoy!
Upgrade #5:  All-inclusive packages
For even more adventure and less hassle, Paddling Michigan offers all-inclusive packages with glamping accommodations and our most popular kayaking tours and boat cruises. We include sack lunches for the tour and meal tickets to use at The Duck Pond Eatery and Beer Garden, so all that's left for you to do is take in all that Pictured Rocks has to offer. The ultimate upgrade!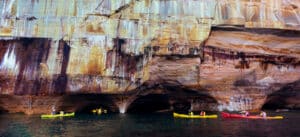 Now that you've learned all the hacks to upgrade your camping trip into a glamping adventure, there are just three things left to do:
Choose your home base!

Cozy yurt or breezy safari tent?

Choose your adventure!

A kayaking tour or a Grand Isle Cruise? (or both!)

Book your trip!

There's a glamping adventure out there waiting for you.
Guided kayaking tours, unique overnight accommodations, dining options, and more are all available at Paddling Michigan! For even more hassle-free planning, we've bundled our most popular options into a selection of 1-day, 2-day, or 3-day all-inclusive travel packages. 
Book now to reserve the best dates! We can't wait to host you.