Winter Camping at the Paddlers Village is a very unique experience in camping with comfort in a heated Yurt or Cabin on the shore of Lake Superior. It is meant for adventurers that love the outdoors, a winter campfire on the beach, stargazing, and the cool crisp night air. It is necessary for you to bring along warm bedding and appropriate winter clothing as needed for your experience. New this year is a heated shower and restroom facility. The Duck Pond Apartment sleeps 7 with 2 bedrooms and a futon for beds, full kitchen, bathroom, living room, TV, WIFI and is located above the Duck Pond Restaurant.
Winter rates effective October 14th thru May 14th. Snow Shoe Rentals available in 2018 at the Duck Pond Restaurant.
Not recommended for very young children or babies during December, January, February, and March.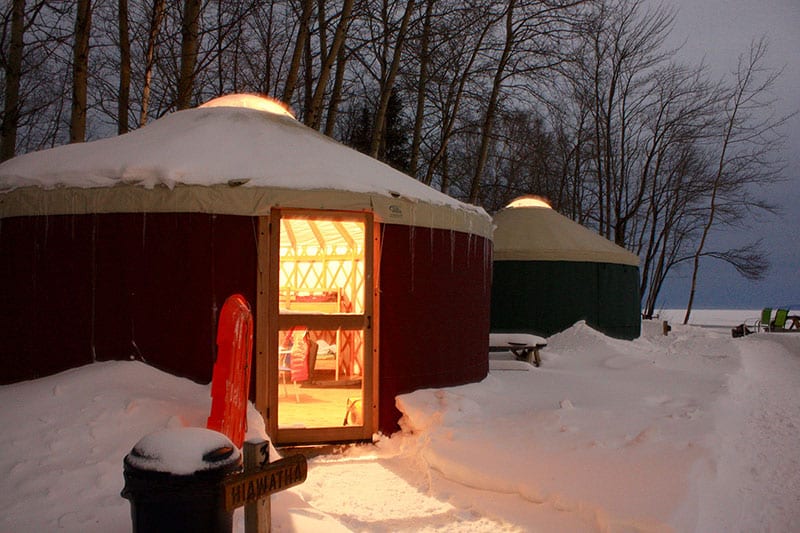 For those that want a little extra comfort than you get with basic winter camping. Our yurts and cabins are insulated and with electric heaters are downright comfortable during our cold winter months. Outside are a fire pit for a campfire and a grill for burgers, steaks, or chicken, or whatever you want to cook. . See the Northern Lights on a clear night right from our beach. Just bring along a sleeping bag and some winter clothing and you are all set to experience the beauty of an Upper Peninsula winter. Nearby are ice caves, frozen waterfalls, great skiing, snowshoeing and snowmobiling and ATV trail riding nearby.
Yurts and Cabins have an electric heater and an additional propane Mr. Heater. The Propane Mr. Heater is not meant to be used all night but rather during periods when you are awake and just want a little extra heat. Heating is included in the price of the rental. Don't forget to bring plenty of sleeping bags and warm bedding. Remember, this is still a camping experience.
16 Units available:
14 yurts and 2 Cabins (Heated w/ refrigerator)
Heated Shower and Restroom Facility.
All units have Outdoor Grill and Fire pits.
$129 per night for 16′ Yurts & Cabins
$149 per night for 20′ Yurts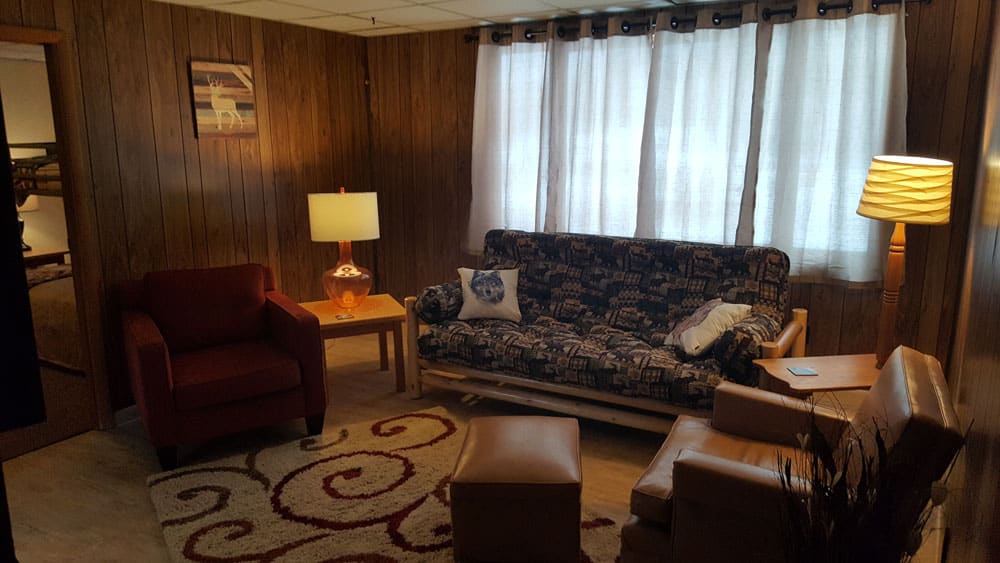 Really don't want to rough it??
Duck Pond Apartment – Open year around
Located just above our Duck Pond Restaurant. Short walk to the beach for Stargazing.
Sleeps up to 7 people
3 double beds, 2 single beds, and 1 futon
Kitchenette
Dining area w/ Table & Chairs
Full Bath
Cable TV
Living Room
Wireless Internet
$199 for up to 7 people.
The Northern Lights are a spectacular phenomenon that are hard to predict, and hard to forget! Their occurrence is tied to the activity of the Sun, and the solar wind caused by the eruption of spots on the Sun's surface. This solar wind puts a pressure on Earth's magnetic field, which is not uniform, and when we come 'round to the times of Equinox every Spring and Fall, it seems the most vulnerable part of our magnetic field is exposed to the pressure of solar wind, and an increase in aurora is the result!
Aurora predictions usually come only a day or two in advance of their occurrence, so please note that it is difficult to plan ahead if you are traveling from a great distance. And they are elusive, which means they can also occur without any warning! But they are generally very active in the winter months and also seem to be most active around or after midnight but can also occur earlier as well. Best time for observing them is also with minimum cloud cover which is generally found with a high pressure area over the Northern Michigan and Upper Peninsula areas.