You've cleared your schedule for an action-packed vacation, and a kayaking tour of Pictured Rocks National Seashore is at the top of your to-do list! 
If open-water kayaking is new to you, then the prospect of paddling around the waters of Lake Superior may seem a bit more involved than the recreational kayaking you've enjoyed in your local rivers and inland lakes. 
Don't worry! Paddling Michigan has led thousands of kayakers around the stunning cliffs of Pictured Rocks, and we have compiled a short list of need-to-know essentials, along with a packing list to get you paddling. Let's dive in…
**************
Tip #1: Schedule your visit for the best paddling experience.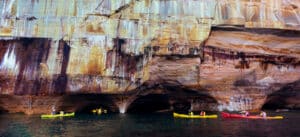 Mid-summer is the best season to visit. Northern Michigan has chilly winters, but temperatures warm up from May to mid-September. The water can be too cool for comfortable kayaking in the spring, and the wind often picks up in the fall, so for optimal weather, plan your visit during the warmest months (around June 15 to August 20).
Before you head out, check the weather for a clear, still day. If you have some flexibility in your schedule, choose a day forecasted to be free of thunderstorms, with winds in the 0-10 mph range. But, don't let mild weather stop you! A little rain or wind doesn't mean you won't enjoy a great day of paddling. 
If you'll be in the area for several days, consider one of our all-inclusive packages, which include lodging in our unique tipis or yurts or in our more traditional cabin or lodge options. These packages usually offer flexibility on your kayak tour date in the event of inclement weather.
Tip #2: Leave your worries at the door (no prior experience needed)!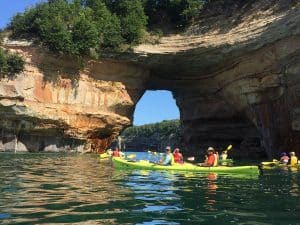 All skill levels (and most ages!) are welcome on our guided kayaking tours. 
Whether you have a lot of experience or a little, a full day of kayaking can be enjoyable for you! Kayaking with our guides is safe and easy to learn, and the leisurely pace of the tour allows for all levels of adventurers. Swimming skills are not required as all kayakers have life jackets, and our kayaks are some of the most stable in the business. 
Paddling Michigan offers two- and three-hour tours, perfect for beginners and children ages 6 and up. Longer tours include all of the highlights of the Pictured Rocks and are designed for active adults and older children ages 8 and up. Children will be seated in the front of a tandem kayak with an adult. 
Our tours are designed to take in the sights and sounds of the land and water around us, so paddlers can move at a pace that's comfortable for them. 
Tip #3: Get comfortable with your kayak.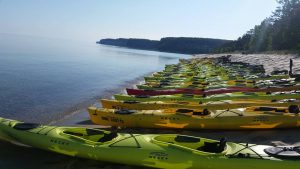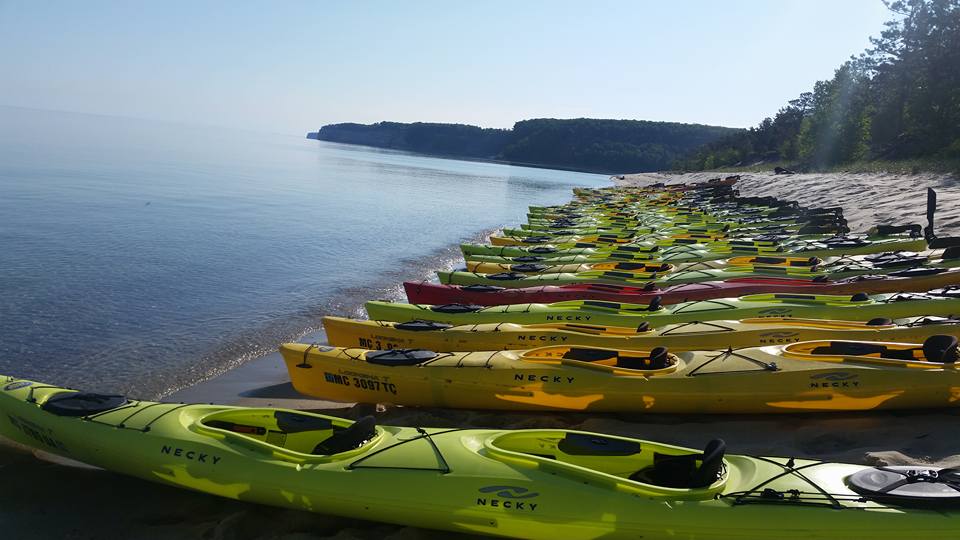 The Great Lakes surrounding Michigan are open bodies of water that act more like a sea or ocean than an inland lake. It is important to use a kayak designed for sea navigation because they allow for greater stability when navigating wind and waves. Touring Sea kayaks also have smaller cockpits than most recreational vessels (about 17" across) so their occupants stay drier.  
Paddling Michigan sea-touring kayaks are comfortable and well-suited for navigating the waterways around Pictured Rocks. Our kayaks feature an extra-long cockpit for tandem use and increased stability. We've also fitted our kayaks with a spray skirt that covers the open area around the paddlers and prevents water from soaking its occupants. 
Simply tune into our tour guide's easy-to-follow instructions before leaving shore. They'll make sure you know just how to sit in your kayak and how to hold a paddle, both for safety and comfort. You'll be in your kayak and paddling like a pro in no time!
Tip #4: Don't forget to pack these must-haves.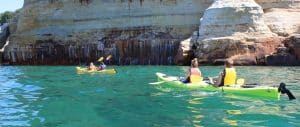 You may run across ads for all sorts of fancy kayaking equipment, but you really just need the basics. We recommend:
Layers of clothing.

Temperatures on Lake Superior can change as you move away from shore and also from morning to afternoon, so you'll want to dress in layers! Synthetic, quick-dry clothing will be more comfortable than denim and cotton. A windproof and waterproof splash jacket is recommended, but a raincoat will work as well. This layer is essential to stay dry and warm while on the lake!
Water shoes or strapped sandals.

The beaches dotting the tour are perfect for a lunchtime stop or some up-close exploring by foot. Water shoes or strapped, water-friendly sandals will stay put in and out of your kayak. 
Healthy snacks and plenty of water.

Did you know kayaking is a full-body workout and can burn up to 400 calories an hour? You'll want at least 2 liters of water per person and plenty of snacks or a packed lunch for longer tours. Consider pre-packaged food that can survive a little moisture! Our

all-inclusive vacation packages

include a light breakfast and a packed lunch to keep your energy high.
Sun protection.

Sunglasses, hats, and plenty of sunscreen are a must. Even waterproof sunscreen needs to be reapplied after two hours, so bring your bottle along!
Dry bags.

These waterproof bags keep your belongings dry and are useful for storing your snacks, medications, or a change of clothes. A waterproof phone case is helpful as well. For your convenience, Paddling Michigan provides a dry bag on our kayaks and nearly all of the items listed above can be purchased in our gift shop if something gets left at home. 
Tip #5: Have your camera ready for these incredible sites!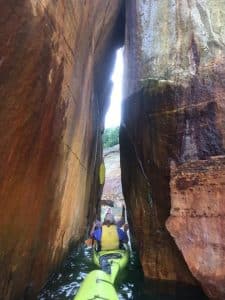 Kayaking the Pictured Rocks gives you the very best views of all the park's natural colors and formations. We've included a list of just a few of these beauties below! Be ready to capture them as you paddle:
 

Arches and caves.

Water and weather have shaped the cliffs into beautiful landmarks over thousands of years. Kayakers can paddle through several of the rock formations, including the narrow Kissing Rock and the majestic Lovers Leap Arch. The vegetation in Falcon Cove makes it an ideal place for peregrine falcons to nest and feed.
Touch the paint.

As groundwater seeps out of cracks in the cliffs, minerals in the water paint the rocks in a dazzling rainbow of red, orange, blue, black, brown, and white. Kayakers can see and touch these masterpieces as they wind along the rocky shore. 
Shipwreck.

Lake Superior is the final resting place for over 300 ships that sank in the 1900s. The clear waters allow kayakers to see the ribs and keel of an unknown vessel that sank in the last century. 
**************
With this list of essentials for kayaking and a strong sense of adventure, you're ready to spend the day seeing the beautiful views of Pictured Rocks National Seashore! 
Get on the water in three easy steps:
Pack your bags.

Get paddling!
Guided kayaking tours, unique overnight accommodations, dining options, and more are all available at Paddling Michigan! For even more hassle-free planning, we've bundled our most popular options into a selection of 1-day, 2-day, or 3-day all-inclusive travel packages. 
Book now to reserve the best dates! We can't wait to host you.